After the season of celebration and family traditions, it's an appropriate time to remind ourselves that it's important not only to worry about the company profits for the past year but also to give back to the community. And you don't have to be Microsoft to do it.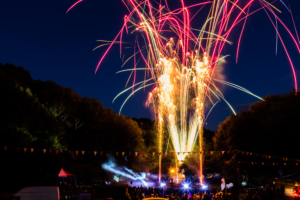 Almost any size organization, with or without a philanthropic budget, can find ways to "do good." The fact is that giving back will probably pay off royally for your company in increased name recognition with coverage of your good deeds both online and in local publications. This can exert significant positive influence on an organization's image.
Companies and corporations often spend much of their marketing budgets on branding, focusing their efforts on creating attention-getting logos and taglines, hoping that it will keep their names and products in the forefront of their markets' minds, both online and in traditional media such as newspapers, magazines and TV and radio. Companies can strengthen their brand just by generously giving back to the community. Whether it is volunteering time to help an organization, providing expertise that a nonprofit needs in a special situation, or donating products and services, there is something that every company can offer regardless of size.
Here are some ideas to get you thinking:
If you own or work for a multimedia services company, perhaps you could donate equipment for an evening entertainment event that supports a local hospital, nursing home or children's daycare center.  Or you could assist a local, community theater that's struggling through the setup of its sound system.
A technology consulting company might offer their computer software knowledge and networking expertise to a local school system.
A healthcare organization can offer free health screenings to the local community.
A grocery store can collect cans of food for a food bank.
If your business expertise lies in marketing or public relations, you could volunteer your time and expertise with a local nonprofit agency or even a national organization.
There are also online resources to help you define the right opportunity for you and your business One of my favorite websites for this is www.volunteermatch.com where you can find local volunteer opportunities as well as national opportunities. Here are some volunteermatch.com 2016 statistics from their website:
13 Million Visitors in 2016
103,000+ Active Opportunities
117,000+ Nonprofit Organizations
150 Network Partners
These statistics are pretty impressive. Why don't you try it out? On a personal note, I found three opportunities to volunteer through volunteermatch.com in one hour and started volunteering with two of the organizations within two days.
Just after the holidays when business may be a little slower and you have the opportunity to strategize and plan for 2018, why not spend a little time brainstorming about some ways to support a local nonprofit organization? You'll feel good about yourself, help your local area and just maybe strengthen your company's image in your marketplace as well.